The place to unwind

The complete escape.

The Bothy is a fully-equipped, 2-bedroomed cottage set in its own gardens with waterfront terrace, private pontoon and fishing and boating rights.

We have taken time and care to create a holiday home we are proud to share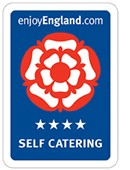 The versatility of The Bothy lends itself to a peaceful retreat for those that just need that special 'time out'. Equally, families are catered for with consideration to safety features and equipment to allow children and pets to share your Bothy experience.

We welcome you to consider The Bothy as your own personal home from home experience where you can truly relax, just as we do.

Add to this its UK accessibility and stunning location, you can see why The Bothy has recently been awarded a four star rating by the British Tourist Board.